If you do a little research online, you will come across a pretty big list of website building solutions. While that's good news for people planning to build a new website, having so many options also makes the job of picking the right one extremely difficult. However, at the moment, it can be said that Weebly is the best website builder you will come across. Read on to find out why choosing Weebly for building your site would be a wise decision.
 –> Click here and let's start building your website <–
Weebly offers amazing speed and security
Weebly offers hosting services to each and every website built on the platform. This might be good news or bad news; however, thanks to the comprehensive hosting services offered by them in case of this site builder it's a plus. Weebly showcases high loading speeds. All their sites get optimized for being hosted on their own platform. What's more, they even do the needful for protecting the sites against spam and hackers. If you opt for business plan, the website builder would also provide services like installation and maintenance of SSL (Secure Socket Layer) all across your website. So, as a website owner, you can rely completely on Weebly for taking care of backups, security, speed, etc.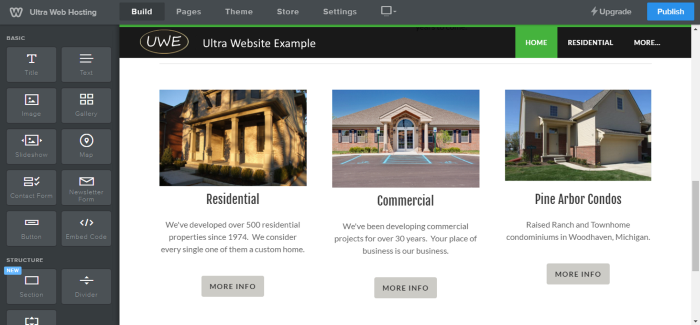 Weebly control panel
You will not need to burn your pocket to enjoy the comprehensive services offered by Weebly
Individuals who don't mind having their websites on a sub-domain can try out the free services offered by Weebly and that too without any expiration. The deal is pretty good, particularly if you are looking to build a temporary website.
Weebly's paid packages are also priced pretty reasonably. In fact, they are cheaper than all-inclusive website building packages offered by other providers. They have managed to keep the price low in spite of offering hosting services. The Starter plan of the company begins at around $8 per month (if paid upfront). Their Pro plan, in spite of adding a series of solid features, is priced below $12 per month. What makes Weebly even more cost-effective is that unlike most other website builders, they have no caps over storage space or pages.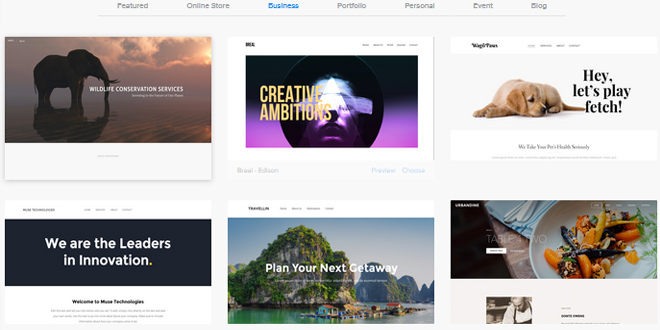 Weebly ready-made templates
Weebly has an impressive site building procedure
As a result of being an all-encompassing website builder, Weebly will not require you to write CSS or HTML code. Just dragging and dropping elements would do the job for you. The items you will be seeing on the site builder can be imported into the website built by you. Here, it must be mentioned that most other builders that use this drag and drop method fail to make the process of site building simple for the users. For instance, a common problem you will face with them is that of auto positioning. This means, all-inclusive site builders might stop you from placing a dragged element in a desired position by automatically placing it in the center. Weebly would not make you suffer from such issues. The drag and drop feature of this builder would work exactly in the way you would want it to. In addition, it also possesses a CSS module for individuals interested in customizing their site further. This means, this builder is versatile enough to be used by professional site builders.
Offers solid educations and onboarding
Weebly has been created with the aim of helping users by making the process of building websites even simpler. So, the makers of the software have left no stone unturned to make a user-friendly solution. They have worked hard to provide it with truly solid education and onboarding. The makers have not only used email drip campaigns for this purpose, but have also added small info buttons on their platform.
Weebly control panel
Flawless customer support
Today, even the greatest companies fail to satisfy customers/users if they don't have an efficient customer support team. One of the main reasons why Weebly is the best website builder of 2017 is that it never fails to offer the required support to its users. If you have a free account, Weebly would offer you highly responsive email support (in addition, you will have access to an informative Knowledge Base). For owners of the paid accounts, the software offers customer support through phone, chat, and email.
Whatever might be the media of communication you pick, Weebly's customer support team will take very little time to get back to you. What's even more inspiring is that the software's customer support team is capable of fixing and troubleshooting all kinds of issues you may have with your website (that's possible only because Weebly is an all-inclusive platform).